---
April 8, 1965------January 9, 1983
Theresa Marie Porco
WHEN TOMORROW STARTS WITHOUT ME
When tomorrow starts without me, and I'm not there to see; If the sun should rise and find your eyes all filled with tears for me; I wish so much you wouldn't cry the way you did today, while thinking of the many things we didn't get to say. I know how much you love me, as much as I love you, and each time you think of me I know you'll miss me too; But when tomorrow starts without me, please try to understand, that an angel came and called my name and took me by the hand, and said my place was ready in heaven far above, and that I'd have to leave behind all those I dearly love. But as I turned to walk away, a tear fell from my eye, for all my life, I'd always thought.. I didn't want to die. I had so much to live for and so much yet to do, it seemed almost impossible that I was leaving you. I thought of all the yesterdays, the good ones and the bad, I thought of all the love we shared and all the fun we had. If I could relive yesterday, I thought, just for awhile, I'd say goodbye and kiss you and maybe see you smile. But then I fully realized that this could never be, for emptiness and memories would take the place of me. And when I thought of worldly things that I would miss tomorrow, I thought of you, and when I did, my heart was filled with sorrow. But when I walked through heaven's gates, I felt so much at home. When God looked down and smiled at me, from His great golden throne, He said, "This is eternity and all I've promised you". Today for life on earth is past but here it starts anew. I promise no tomorrow, but today will always last, and since each day's the same day, there's no longing for the past. But you have been so faithful, so trusting, and so true. Though there were times you did some things you knew you shouldn't do. But you have been forgiven and now at last you're free. So won't you take my hand and share my life with me? So when tomorrow starts without me, don't think we're far apart, for every time you think of me, I'm right here in your heart.
~~Author Unknown~~
---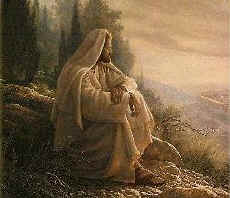 ---
THIS CHILD OF MINE
"I'll lend you for a little time, a child of mine. He said, For you to love while he lives, and mourn for when he's dead. It may be six or seven years, or twenty-two or three. But will you, till I call him back, take care of him for Me? He'll bring his charms to gladden you, and shall his stay be brief, You'll have his lovely memories as solace for your grief." "I cannot promise he will stay, since all from earth return, But there are lessons taught down there, I want this child to learn I've looked the wide world over in my search for teachers true, And from the throngs that crowd life's lane, I have selected you. Now will you give him all your love, nor think the labor vain, Nor hate Me when I come to call him back again?" I fancied that I heard them say: "Dear Lord, thy will be done." For all the joy Thy child shall bring, the risk of grief we'll run. We'll shelter him with tenderness, we'll love him while we may, And for all the happiness we've known, forever grateful stay; But shall the angels call for him much sooner than we've planned; We'll brave the bitter grief that comes and try and understand.
~~Edgar A Guest~~
---
WHEN LEFT UNSAID
My Darling Daughter "THERESA"
I didn't get to say "goodbye", And all the words I wanted you to hear. I should have said them when I had my chance, But I thought that you would always be near. I ran out of time to let you know, Just how much you meant to me. I should have told you, but I thought you knew, But now I will never know, if you really did see. When l talk to you in my prayers at night, I hope you can hear all I have to say. I would have told you, if only I could, Have had you back for one more day. Perhaps there were words you wanted to say also, That were left unsaid by you. But I do know that you loved me, As you knew that I loved you too. We should always say what we feel in our heart, As tomorrow may never come. Speak those words today as you feel them, And never lose your chance to tell someone.

Love, MOM
~~~~~~~~~~~~~~~~~~~~~~~~~~~~~~~~~~~~~~~~~~~~~~~~~~~~~
The day Theresa passed away, she was going to go see her favorite rock star-Rod Stewart. She decided to take a bath. She suffered a grand mal seizure while in the tub. She hit her head and went down in the water and then drowned. She could not get up. Her lungs filled up fast with the water. That is what the autopsy showed in the report they gave me. Theresa suffered from seizures since she was five years old from an accident.
She was a child who never let her medical problem get in her way from stopping her. She loved to help other children and wanted to someday work with seizure disorders. She did a lot of those "WALKS" for a cause and she never had trouble getting sponsors and she felt so proud when she raised a lot of money for some one her age. One thing she had a hard time accepting was that she would never be permitted to drive!
Theresa is terribly missed by her two brothers, Carmen and Tony. Also her sister Angela.
I, her Mom, will never forget the way she could get what she wanted from her father and me. Now I will never regret giving into her as we did.

Thanks Bev for this gift because she loved teddy bears, too
~~~~~~~~~~~~~~~~~~~~~~~~~~~~~~~~~~~~~~~~~~~~
The song playing in the background is "THE ROSE" and it was one of Theresa's favorite's. It was played at her funeral and there are times when I hear BETTE MIDLER or CONWAY TWITTY sing it, I still cry.
~~~~~~~~~~~~~~~~~~~~~~~~~~~~~~~~~~~~~~~~~~~

THE ROSE
Some say love, it is a river that drowns the tender reed. Some say love, it is a razor that leaves your soul to bleed. Some say love, it is a hunger, an endless aching need. I say love, it is a flower, and you its only seed. It's the heart, afraid of breaking, that never learns to dance. It's the dream, afraid of waking, that never takes a chance. It's the one who won't be taken, who cannot seem to give. And the soul, afraid of dyin', that never learns to live. When the night has been too lonely, and the road has been too long, And you think that love is only for the lucky and the strong, Just remember in the winter far beneath the bitter snows, Lies the seed, that with the sun's love, in the spring becomes The Rose ...
~~~~~~~~~~~~~~~~~~~~~~~~~~~~~~~~~~~~~~~~~~~~~~~~~~
p>
"DO NOT GRIEVE FOR ME"
Dear Mom,

Do not stand at my grave and weep;
I am not there, I do not sleep.
I am a thousand winds that blow;
I am the diamond glint on snow.
I am the sunlight on ripened grain;
I am the gently falling autumn rain.
When you awaken in the morning's hush,
I am the swift, uplifting rush of quiet birds in circled flight.
I am the soft star that shines at night.
Do not stand at my grave and cry;
I am not there;
I did not die.

Love, Theresa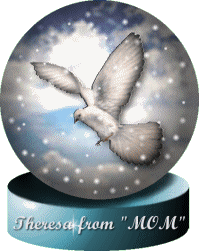 If you like, you can visit my HOME PAGE
mmp42@adelphia.net
Sign My Guestbook
View My Guestbook




~~~~~~~~~~~~~~~~~~~~~~~~~~~~~~~~~~~< Last Updated: May 29th, 2002 7:15 P.M.